Angel Fund Paused
Angel Fund is paused until further notice while we raise funds to assist members of the community who are in need.
Homeward Bound Pets Angel Fund Program
The Homeward Bound Pets Angel Fund started in 2012 in response to community members' requests for help with veterinary expenses for their pets, with the goal of keeping the pet at home, healthy and happy. Each recipient must meet qualifying criteria; they are Yamhill County residents who are low-income individuals and families, often disabled, sometimes homeless, with no access to care for their pet's injury or illness. We work with local veterinary offices to provide the best quality care at the lowest cost possible so that we may help out as many of our county dogs and cats as possible.
The need for Angel Fund continues to grow. Each year we are providing lifesaving veterinary care for over 100 cats and dogs.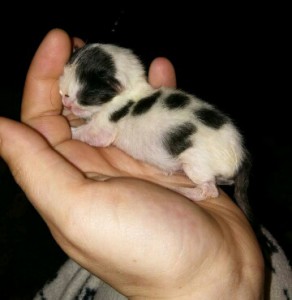 Smokey's Story…
Out of the kindness of her heart, a single mother took in young calico female cat 'Smokey' when a friend could no longer care for the cat. Smokey's new owner receives government assistance and subsidized housing. She was told that the cat was fixed … well, in a few weeks, Smokey went into labor! She was not able to deliver her kittens and was bleeding profusely. The Angel Fund stepped in and Smokey was able to have the surgery she needed, not only to save her life, but the life of her one remaining kitten. Both Smokey and her kitten Lucky continue to thrive (and both are now fixed of course!)
Tucker's Story…
Gentle and affectionate 11-year old male Catahoula Leopard dog 'Tucker' is a beloved member of a family of four living below poverty level. When Tucker broke his paw, they were able to scrape together the money to pay for initial treatment costs and X-Rays. However, when it became necessary for their dog to have a leg amputation, they simply did not have the means to cover the surgery. Angel Fund to the rescue! The family reports that Tucker healed just fine and doesn't mind at all that he only has 3 legs, he just knows he is loved beyond measure!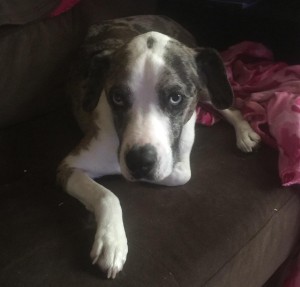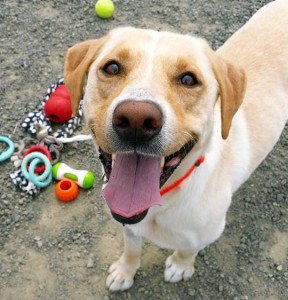 Buster's Story…
A kind gentleman and his wife, both on disability, had previously adopted 5-year old yellow lab 'Buster' from Homeward Bound Pets. They were one happy family until the day that Buster found and ate a raw fish, unbeknownst to them, during a camping trip. He quickly became very ill with vomiting and diarrhea and the owners were afraid he would not survive; the diagnosis was Salmon Poisoning. The Angel Fund provided the veterinary care that Buster needed to get through this illness. Within a few days, Buster was back to playing his favorite sport with his family … fetch! Needless to say, Buster will not be having any more fish dinners.
Who Qualifies for Angel Fund Veterinary Financial Assistance?
Only Yamhill County residents can qualify. Applicants must be approved by the Angel Fund Coordinator before taking your dog or cat to see a veterinarian.
In order to qualify to receive Angel Fund assistance, an applicant must prove that their income, as below the federal poverty level or are currently receiving government/public assistance such as Oregon SNAP benefits, Oregon Healthplan, TANF, Social Security Disability Income, Section 8 Housing etc. An applicant will not receive veterinary care for their pets until the application process is complete.
Angel Fund is paused until further notice while we raise funds to assist members of the community who are in need.
What are the Requirements?
To qualify for acceptance, your pet must be spayed or neutered, or there must be an agreement to do so as soon as medically feasible.

The Angel Fund Coordinator may send the applicant and their pet to a different veterinary hospital than the applicant's regular vet.

AFTER applicants have been approved by the Angel Fund Coordinator, an email must be sent by the coordinator to the veterinarian prior to service. The applicant must make scheduled appointments with the veterinary hospital and have approval before any follow up care.

An applicant is required to make a co-pay directly to the hospital at the time of service.
How Do I Apply to Receive Angel Fund Veterinary Financial Assistance?
Angel Fund is paused until further notice while we raise funds to assist members of the community who are in need.
Founded in 2015 by Banfield Pet Hospital®, the Banfield FoundationTM is a 501(c)(3) nonprofit organization committed to improving the well-being of pets and communities. Our mission is to elevate the power of the human-animal bond, strengthen the pet welfare community, provide disaster relief for pets and advance the science of veterinary medicine through fostering innovation and education. We also offer support for emergency and preventive veterinary care and provide grants to pet-related nonprofit organizations in order to keep pets healthy and in loving homes. For more information visit www.BanfieldFoundation.org or follow us at www.Facebook.com/BanfieldFoundation