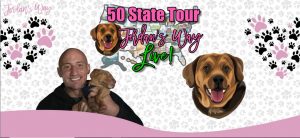 Jordan's Way, a national animal welfare non-profit is touring the U.S. to support animal rescue organizations has selected HBPets as a beneficiary of its Greater Portland area online fundraiser on October 13 from 10AM – 2PM at the HBPets Animal Shelter! 
The event will be broadcasted via Facebook Live!
This event is sure to be the most entertaining FUNdraiser we've ever had! Kris Rotonda, the energetic founder of Jordan's Way will be hosting a 4-hour frenzy during Wednesday's event full of shenanigans, games, local celebrities, and of course, lots of pups ready to find their forever homes.
We encourage you to share, tag and invite your friends and family to be a part of the live virtual fundraiser. Just the small act of sharing this event link before and during the fundraiser will have a huge impact: https://www.facebook.com/donate/975844519862668/230635262442554.
EVENT INFO: October 13th from 10AM-2PM at HBPets Animal Shelter (10601 SE Loop Road, Dayton 97114). We are looking for volunteers to have fun at the event!  If you're interested, contact Laura Looney (contact info below).
To learn more about the Jordan's Way Tour and the work they are doing for animals in need all over our country, visit https://jordanswaytour.com.
For more info, contact Laura Looney, events@ hbpets.org or 503-472-0341 ext. 7.